Complete Details of Our Wedding Service Package Options
Bronze Package – 30-Day Wedding Coordination
(Equivalent to Day of Coordinator) – $1,500
For the bride who wants total control of planning her day, but needs someone to take over on the wedding day itself. This package offers:
Free Initial consultation.
Attending dress rehearsal for bridesmaids.
Directing the rehearsal, the wedding, and the reception.
Detailed scheduling of the entire day.
Visit to wedding and reception site prior to wedding.
Arrival at wedding site 1 1/2 hours before start of wedding.
7 hours' wedding day service.
Copies of the schedules given to vendors.
Etiquette guidelines given as needed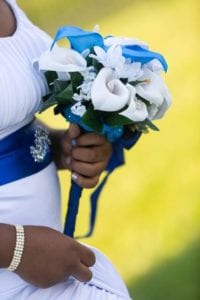 Silver Package – Partial Wedding Package – $2,500
For the bride who has started the planning process but because of time constraints, needs the help and guidance of a consultant. This package includes all amenities in the Rehearsal/Wedding Day Package, plus:
Eight additional hours' consultation.
Review of vendor contracts.
Recommendations for vendor selection
Special prices on invitations and accessories.
Additional hour of wedding day service.
Development and Printing of wedding programs
Informational letters sent to vendors and bridal party
Gold Package – Complete Wedding Package – $4,000
For the bride who needs full wedding planning service. This popular package includes all aspects of the planning phases including, but not limited to:
Initial consultation with the bride and groom
Ongoing consultation and advice (e.g., on etiquette) as required
Preparing a schedule/timeline and checklists
Assisting with selection and booking of ceremony and reception venues
Assisting with selecting and booking an officiant for the wedding
Assisting with selecting a color scheme, theme and style of the wedding
Assisting with the design, arranging the printing and mailing out of the invitations
Tracking RSVPs and who will be attending
Assisting with selection of wedding attire and accessories
Finding, negotiating with and booking suitable vendors (e.g., florist, photographer, videographer, musicians, caterer, etc.)
Reviewing vendors' contracts and coordinating with vendors
Initial consultation with the bride and groom
Ongoing consultation and advice (e.g., on etiquette) as required
Preparing a schedule/timeline and checklists
Assisting with selection and booking of ceremony and reception venues
Assisting with selecting and booking an officiant for the wedding
Assisting with selecting a color scheme, theme and style of the wedding
Assisting with the design, arranging the printing and mailing out of the invitations
Tracking RSVPs and who will be attending
Assisting with selection of wedding attire and accessories
Finding, negotiating with and booking suitable vendors (e.g., florist, photographer, videographer, musicians, caterer, etc.)
Reviewing vendors' contracts and coordinating with vendors
Providing information to obtain a marriage license
Ceremony planning
Preparing itineraries, seating list, name plates
Attending and overseeing the rehearsal (up to 2 hours)
Instructing attendants about their duties
Directing the processionals, recessionals and receiving line
Reception planning
Coordinating the collection of gifts received on the wedding day
Wedding day coordination
Providing a stress free day for the bride and groom
Hosting a meet and greet event for bridal party